Affordable website design without cutting corners. Since 2003, I have offered the complete package for any company, organization, or individual needing a professionally designed website. This includes company branding, logo design and graphics, high quality photography, e-commerce, internet marketing and search engine optimisation, everything required to make the best of your website.
Do you already have a website that isn't doing you any good? Many of my clients had websites that needed a kick in the right direction. I can look at your current site and give a free assessment of what can be done to get it working for you.
---
All my websites are built upon the popular WordPress content management system; giving the client the ability to edit the content themselves, and providing a huge range of tools for creating thoroughly modern websites.
As website owner you can log-in and make changes to any of the content or update your latest news, you can add pictures or files, do admin tasks for blogs or forums. I also offer shop website solutions giving the business owner the ability to control their online product catalogue and print reports & invoices etc.
---
Simple 2 year hosting package with free domain name and WordPress maintenance included – job done!
All the technical aspects to running a website are covered with my easy two year plan costing £150, working out as £6.25 per month total running costs; leaving you with nothing to worry about.
---
Mobile and Tablet Friendly Web Design – It is vital these days that websites are designed to work well on small touchscreen devices like mobile phones.
You might be a hotel or guesthouse and your visitors may be sitting on a train or walking around the streets looking for accommodation online with the view to book a room. As with the Sefton Lodge website on the right (or above on a mobile!) you can see an easy 'phone us' link at the top which puts the number into your phone ready to dial, and also a 'book online' link below which links directly to the online booking agents website.
On the Location page you see a Google Map showing where the hotel is and providing a simple link for satnav style directions or to literally walk you to the front door of the accommodation you just booked. Wonders of modern tech eh!
---
Below you can browse a list of some of my website clients. From simple one page brochure designs up to full featured shop websites with ecommerce sales functionality. If you have any questions about my web design services or wish to book a meeting to discuss your needs get in contact 🙂
---
Mike Cornish Commercial Fishing Supplies, Paignton – mikecornish.co.uk
Long established Paignton based company selling fishing industry supplies all over the UK.
This is a busy shop website and we're gradually updating the features and appearance to keep up with modern world! Built using WordPress and customising the Storefront theme.
---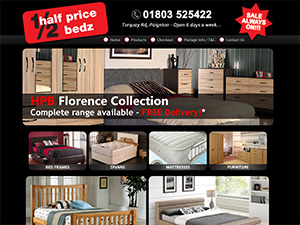 Brand new website for the popular Half Price Bedz shop on Torquay Rd, Paignton. Now a fully tablet and mobile friendly brochure website displaying a range of products available to buy online as well as information on exclusive furniture ranges available in store only.
This website really is designed with tablets and mobile devices in mind; featuring large eye-catching images for easy navigation on touch screens. In coming months we will be adding even more new features and new ranges for this busy local business.
---
New this season I have made a website for the Cambria Hotel on the seafront on Paignton Beach. This website is to provide information for customers looking to book package coach holidays with the Cambria.
Standard now is the responsive design which means the website is tailored to fit modern mobile phones and tablets as well as traditional computer screens, and also has unique features to make the site more convenient to use on a small touch screen like a smart phone.
---
Another hotel website, new owners and a fresh approach along with a brand new modern website. I believe hotel websites benefit greatly from responsive design so again this website has a tailored appearance when viewed on mobile phones to make the website easier to use on a small screen.
Photography again is a large part of the work to ensure we have attractive pictures for inviting new customers. Design wise there is still more to be added as the business takes shape, but the main template is in place and everything is working well.
---
This is another website upgrade where the customer had an old website which needed bringing up to date. As always this is based upon Word Press so the client has control over all the text and main content online.
It is also a fully responsive website; so the site displays differently according to the screen size – this is to provide a better experience when viewing the website on tablet computers or mobile phones; which we think is important for hotels and guest house type websites.
---
Ricky Romain, Sitar Player, Indian Music – indian-music.org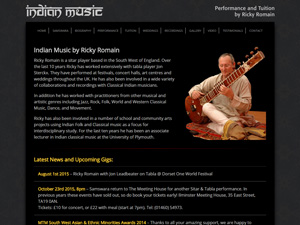 Ricky Romain already had a website for his artwork but wanted a new website purely for his work as a sitar player. Ricky performs regularly in the South West, often alongside tabla player Jon Sterckx, see the website for upcoming events and news. There is also a page to promote Ricky's sitar educational services including individual tuition and group workshops.
The website is simple but effective, the home page being very much based around that fantastic image of Ricky at work (not one of my photographs). We will continue to expand the website and keep the events diary up to date.
---
Crispin Associates, Digital Marketing Consultants – crispinassociates.co.uk
Sound professional advice on printing/copying, video conferencing, and digital signage solutions for businesses. Providing cutting edge systems from manufacturers like Canon and Olivetti to name a few, for highly established companies like Gul International (wetsuits etc) and Vospa Mazda dealership.
This website is very basic at the moment to act as a point of contact, in coming months we will be adding more of the product ranges and services offered.
---
Lexie Carducci, Blogger, Journalist, Property – lexiecarducci.co.uk
Brand new website for 2015, based on the blog which WordPress was originally created for; and connected to all the major social media platforms.
Lexie is posting topical blog posts on London and Fashion etc, you can subscribe to get an email when a new post is added, and there is a full comments facility for conversation under blog posts.
The site also functions as a portfolio and promotional tool for Lexie to aid her in her acting, modelling, and broadcasting career.
---
Easton Court Guest House, Paignton – eastoncourt.uk
The Easton Court Guest House in St.Andrews Road Paignton. This is their first season and they are going all out to make the hotel look lovely and get exposure for their business.
They have used some of my photography on the brochure and the website; all the pictures of the hotel were done for the job including the palm tree that makes the right side website.
I've used several new techniques on this site to optimise the content for search engines and also implemented anti-spam measures to protect the email address.
---
For further information on my Web Design and IT services please contact me.