Welcome to my music downloads page, finally updated after years of neglect. I have optimistically put the word 'releases' in the heading above in anticipation of things to come 😉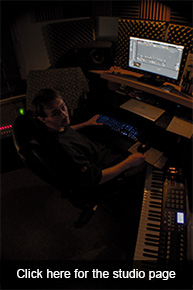 Below you will find all my old CD albums, charting my early days of music production and gradual progress in sound quality, and also my variable musical direction and influences over the years. For current music please visit my soundcloud pages: Flite Music and OSCLab.
Flite Music used to be the musical name I went under, but now it's just a heading for all my musical projects really. Once I have some decent material for a proper release I will likely release different genres under different aliases, but nothing is confirmed as yet.
At this time I'm primarily working on getting my engineering and production skills right up to date and up to a much higher standard, so mainly just doing learning exercises and experimenting with new toys and techniques, but things are moving quickly and it won't be long before I put some serious effort into getting some serious music out there!
If you have any comments on any of my tunes, good or bad, and particularly if you have technical critique or ideas on how I can improve, or ideas for collaboration etc, then please send me an email. You can also follow my studio diary for an idea of what I've been up to lately and get an idea of how I make my music etc.
My musical back catalogue: